Have you joined the Pinterest Challenge? I wrote earlier this week about my most recent Pinterest inspired project, my headboard. And I guess it is probably the one I am most proud of.

I love walking in there and actually seeing a headboard. I actually pinned a few headboard ideas, but this was my favorite, with the dark rustic wood and curvy lines. Yes please!
On the Feminist House Wife Blog, there were detailed instructions on how they made the bed, as well as a link to Ana White's plans.
I mentioned in the last post that I had to modify Ana's plans because I needed a king size headboard and I wasn't making the bed frame.
As suggested in the plans I used pocket holes to join my boards (1 x 8" pine). I also used wood glue between each board. I don't know if it is because I don't quite know what the heck I'm doing or if it was because a few of my boards were warped a little, but I had some trouble with screws coming through the face of the board I was screwing into. At first I thought maybe I was using the wrong length screw, but that wasn't it. I'm still not sure, but there was some taking apart and putting back together involved. When I attemped to lift the beast up, it was really wobbly feeling. There was a little more play between the boards than should have been, so I just used a scrap 1x2 across the boards at the bottom and top. That did the trick. I'm delighted with my latest pinspired creation.
Writing this post had me thinking, Pinterest has truly changed my life. It is my go-to place now for design inspiration, recipe ideas, cleaning tips. I snapped some pics of just a few things that came about all because of pinterest.

This is one of my favorite pieces in my whole house, and it was inpsired by this
All inspired by pinterest. Some directly, like the art above the mantel. That is a shameless copy of Layla Palmer's mantel art.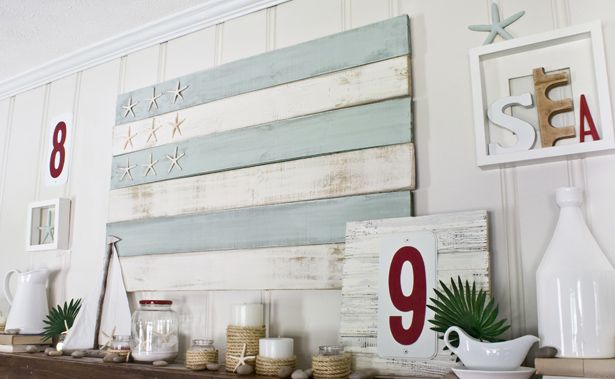 The little table and chairs just satisfied my need to paint something yellow after I pinned this beauty.
Yummy, right?
I've made my own laundry soap, thanks to pinterest.
I made the mason jar soap dispenser after seeing it numerous time on pinterest and that spray bottle contains my new miracle cleaner, dawn, vinegar and water. Works like a charm.
I could go on and on, but I'll spare you. If you want to see more of what inspires me and probably get an idea of the next project I'm contemplating, check out my pintrest boards.
To see what others have been pinspired to do and share your own, check out the Pinterst Challenge Link Party going on at Young House of Love, Ten June, Centsational Girl, and Bower Power.